What Nonprofits Can Learn from Hollywood: Audience Testing for Better Videos
What do the films Sunset Boulevard, Titanic, Pretty Woman, Fatal Attraction, Blade Runner and Shawshank Redemption all have in common? Besides being some of the most beloved movies of all time, they are examples of films that were improved as a result of audience testing.
After test audiences laughed through the opening scene of Sunset Boulevard (it wasn't supposed to be funny), director Billy Wilder rewrote and reshot it. The original edit of Shawshank Redemption showed Red stepping out of prison then cutting to the credits, leaving test audiences desperate to know whether he would go looking for Andy, or succumb to the pressures of the outside world. And after watching the first cut of Pretty Woman, test audiences were devastated when Julia Roberts' and Richard Gere's characters parted ways after their week together (the ending was promptly changed).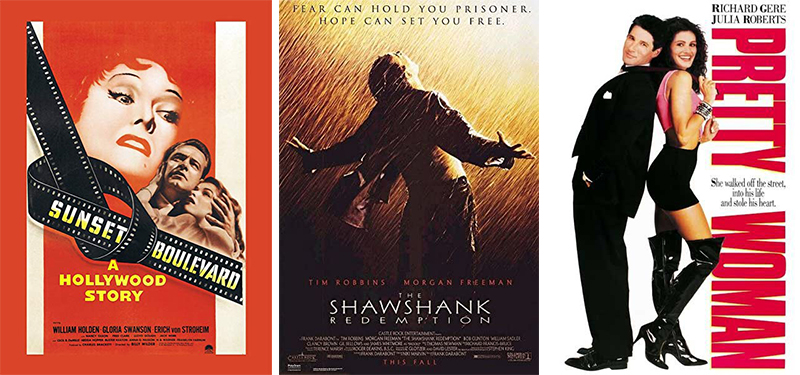 The takeaway is this: if some of the world's best storytellers with multi-million dollar budgets and years-long production schedules rely on audience testing to make their films better, then time-strapped and resource-constrained nonprofit video makers should do the same.
By taking a page out of Hollywood's playbook of audience testing, nonprofits can ensure that their videos engage their audiences, raise more funds, and inspire more supporters to help you accomplish your mission.
Step 1: Start with Audience Research
In Hollywood, before a movie gets the greenlight, the studios conduct market research. They seek to answer:
What does this audience care about?
What types of stories do they want to watch?
What are some of their favorite films?
What elements of the story/themes do they love the most?
Nonprofits should ask the same questions of their donors, supporters, beneficiaries and staff. There are two ways that you can quickly and cheaply gather the information you need: audience surveys and focus groups.
Audience Surveys
Surveys are the fastest and easiest way of learning what your audiences want. Create a survey using an online survey maker like Google Forms, Survey Monkey, or Typeform. Use a combination of multiple-choice and open answer questions, including:
What is your relationship with our nonprofit?
How familiar are you with our work?
What types of videos would you like to see from our nonprofit?
What kinds of stories about our work would you like to hear?
If you were to script the perfect video about our work, what would it say/be about?
What type of video about our work would you be excited to share with a friend?
Where do you prefer to watch our videos?
What length of video do you prefer?
How often do you want to watch videos from us?
For the most useful results, survey a broad audience of internal and external respondents including donors, supporters, partners, staff members, clients, and your board. Ask your audiences to give you honest feedback, even if it's negative.
Audience Focus Groups
In addition to surveys, create a focus group of no more than 10 or 12 participants to talk with you about video for an hour or two. We look for a mix of donors, partners, board members, and a few people who aren't involved with your organization but believe in your mission.
If you can't make this happen in person, meet through Zoom or another video conferencing platform. Ask focus group participants to watch some of your videos beforehand and be prepared to share what they really think.
Come up with four or five specific questions in advance, such as:
What topics surrounding our mission are most interesting to you?
What was the most compelling aspect of the videos you saw?
Were the videos too long, too short, or just right? What do you think would be an ideal video length?
Where do you like to watch our videos? Social media? On our website? Somewhere else?
What other types of nonprofit videos do you watch?
TIP: It's a great idea to record these sessions and get them transcribed afterwards using an inexpensive service like Rev.com. Consider having two or three groups of the same size and duration to prove your findings.
Step 2: Analyze the Data
Look over the responses you received from your surveys and focus groups. Calculate averages for answers to survey questions and look for trends from written and verbal responses. Also, remember who said what, and give extra weight to certain people's responses if they're in touch with an important target audience or have experience in nonprofit communications.
Share Your Findings
Present all that you've learned to your colleagues and make sure they hear the answers to the important questions, as well as the feedback that you found most constructive.
Engage Your Team, But Listen to Your Audiences
Your internal team will no doubt have their own ideas about what types of videos you should be making and how you should make them. Be sure and emphasize when your team's opinions contrast with your audience research, and encourage your team to listen to audiences. Your goal for this research is to improve audience engagement, so your audience's opinion should be more important than your team's.
Step 3: Conduct a Test Screening
After creating your video based upon your audience research, but before it's completely finished, conduct a test screening with your audiences. Hollywood has a whole process for conducting test screenings which doesn't apply for nonprofits, so we created our own approach:
Email the same survey takers and focus group members from the beginning of this process, tell them you've incorporated their feedback into a new video for your nonprofit, and ask them if they'd be willing to watch it and provide some feedback.
If they agree, send them a link to a survey with the video embedded in it.
After watching the video, ask them questions including:

How well does this video communicate what our nonprofit does?
What is your overall impression of this video?
Were there any moments when you were bored? Confused?
Was there anything that distracted you from engaging with the content?
Do you feel more or less passionate about our mission after watching the video?
How likely are you to share this video with your friends?
We've tested specific aspects of our videos by creating multiple versions to see which one audiences prefer. For instance, we've tested different types of motion graphics, different approaches to the narrative structure, and different soundtracks to learn what connects best with your audience.
TIP: When you screen the videos, change up the order in which you show them to focus groups. This lets you control for some people preferring the first video that they see.
Step 4: Make Changes
Don't be discouraged if test audiences didn't like your video, or prefer some aspect that you're not the biggest fan of. At Tectonic, we've made hundreds of videos for nonprofits, and we're still surprised by what our client's audiences tell us. If you really care about making engaging videos for your nonprofit, then follow the example of world class auteurs like Steven Spielberg, Francis Ford Coppola, Kathryn Bigelow and Spike Lee and let your audiences help you make a video they'll love.
Embrace the Drawing Board
If possible, once the changes are made, show it to a few more people to get their reaction. Ask the same questions you asked the first time and compare responses. If you've successfully addressed their feedback, ratings should be higher and you should be seeing more positive responses to your questions.
That said, it's okay if you can't check in with a brand-new audience. In that case, look at the new video with your team and evaluate how well you addressed previous audience feedback. Do the best you can with the time you have.
Moving Forward with Focus
Conducting audience research isn't something you do only once. Audiences' tastes are constantly shifting with the times, and the kind of video that worked one year won't necessarily be the kind that works the next.
As your nonprofit grows and attracts new supporters, it's important to stay in touch with your target audiences and keep your finger on the pulse of what resonates with them. As you develop your video strategy, make a habit of conducting test screenings for each core brand video you create.
By using Hollywood's playbook for audience testing into your nonprofit, incorporating audience testing into your nonprofit's video process, we guarantee that you'll engage your audiences like never before, and help you achieve your mission.